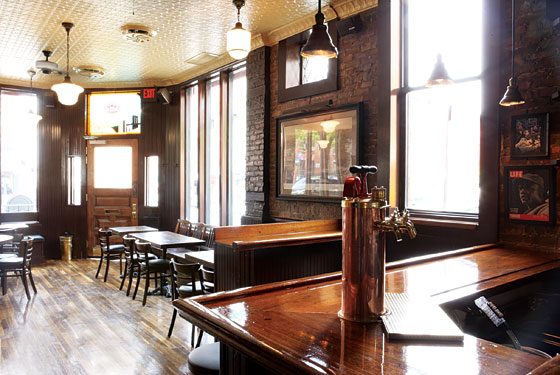 On a steamy Saturday evening, the boyfriend and I finally stepped outdoors and away from the air conditioning to get a bite to eat.  After a sweaty train ride and a trek up 'the slope', we found ourselves sitting in the cool air conditioning of Thistle Hill Tavern.  Although small, we got a seat within 15 minutes, and were sipping a dry rose (beer for bf) before we knew it.
A couple of previous visits were unsuccessful due to a long wait, so I was happy to have a friendly and fast waiter who knew what we were there for:  FOOD…and oh, it was good.
Our dinner began with a hearty helping of 'Baked Mac & Cheese' that had a rich, smoky, and creamy flavor of fontina and provolone.  I also wanted something chilled to relieve the heat, so we ordered the 'Vegan Spring Market Salad' which had shaved fennel, watermelon radish, kirby cucumbers, grape tomatoes, and sunflower seed-cilantro dressing.  Both were delicious.  I clearly loved the mac and cheese because I scraping the last little bits of cheese from the mini cast iron pan with fervor.
Immediately after we had finished our first course, we were served the second.  I had a huge pot of 'Maine Mussels' with kelso pilsner, leeks, dijon, and tarragon. It was the perfect amount of spicy and was served with crusty bread that must have been made for dipping in the broth at the bottom of the pot, because it tasted heavenly.  Rich had the house-ground, grass-fed beef 'Burger' that came with a doughy potato roll and thick cut salt & pepper french fries.  This burger is not for the faint of heart.  Even the hungry bf couldn't eat all of it.  He was sorry that he couldn't eat more of it, though.
This upcoming weekend is supposed to be hot again, but I think if you venture out to Thistle Hill Tavern, you'll be more than happy in your decision to do so.