I've read many articles in which nutritionists say that a good go-to healthy snack choice is popcorn.  Yes, the fiber in popcorn is good for digestion and also keeps you full longer than other sugary snacks, but I have always found it to be a bit boring.  Then I stumbled upon something wonderful in the grocery store:  Popcorn, Indiana.  This gem of a company, that hand-fills its kettles, has some great flavors in their Classic line including Aged White Cheddar, Cinnamon & Sugar, and Sweet & Tangy BBQ, but the real treat is in the two Reserve flavors that are totally unique:  Wasabi and Cocoa Kettle Kettlecorn.  These two flavors are completely unexpected, and each satisfies a specific flavor need of mine (savory/sweet).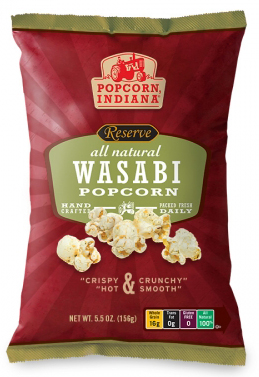 Packing a wallop of heat that clears the sinuses, the all natural Wasabi popcorn is not for the faint of heart.  It's a flavor combination that is unexpected to the palate.  It totally blew me away.
 The Cocoa Kettlecorn is the perfect evening snack.  I have to preface my description by divulging that each night after dinner, I inevitably will ask bf (who does the bulk of the weekday grocery shopping), "Did you get any sweets?" and he will roll his eyes, walking into the kitchen to produce some sugared treat.  Now, fifty percent of the time, he brings out the Cocoa Kettle Corn, and my late-night cravings are sated by the rich and bitter flavor of cocoa, a savory hint of salt, and the sweet crunch of a kettle corn glaze.
Luckily, Popcorn, Indiana is becoming widely available (click here to see where), so get your butt out there and try it!  But I'm warning you:  You will soon be obsessed.