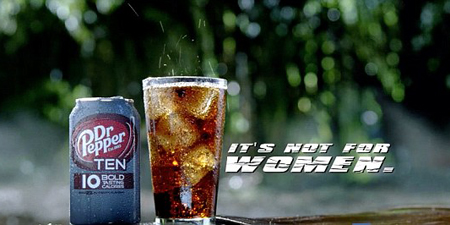 How many of you, when craving a refreshing soda, would choose one that has 10 calories?
If you answered, "I would!" to that question, I'm guessing that, like me, you're a woman. I wouldn't consider myself presumptuous to also assume that, upon considering my question, most of you, no matter your gender variety, also thought, "Why wouldn't I just drink a diet soda with zero calories? Do 10 small calories improve the flavor that much?"
Diet Dr. Pepper, known (and advertised as) the soda that "Tastes more like regular Dr. Pepper," has a new competitor…within it's own brand: Dr. Pepper Ten. But the kicker is that this new-fangled 10 calorie soda is "Not for women." Advertising for the new soda is choc-full of über-macho stereotypes. At first encounter, the campaign's spewing of camo, laser weapons and ninja motorcycle gangs appears to be geared towards men, but is it really?
Zoom in on a perfectly salt-and-peppered muscle man, addressing "ladies" (not men).  He makes fun of our (stereotyped) hatred of action movies. He tells us that Dr. Pepper Ten has, "Only ten manly calories, but with all 23 flavors of Dr. Pepper" and that, "It's what guys want." Here, see for yourself:
So, friends, I pose the following questions to you:
Is this marketing attempt genius or fatal?
Do you think Dr. Pepper Ten is being aimed at men, women, or women who buy soda for the men in their life (aka wife, live-in gf, etc.).
No matter the commercial, do you think that a 10 calorie soda is a good idea?
Have you tried Dr. Pepper Ten?
Ready, set, ANSWER!
___________________________________________________